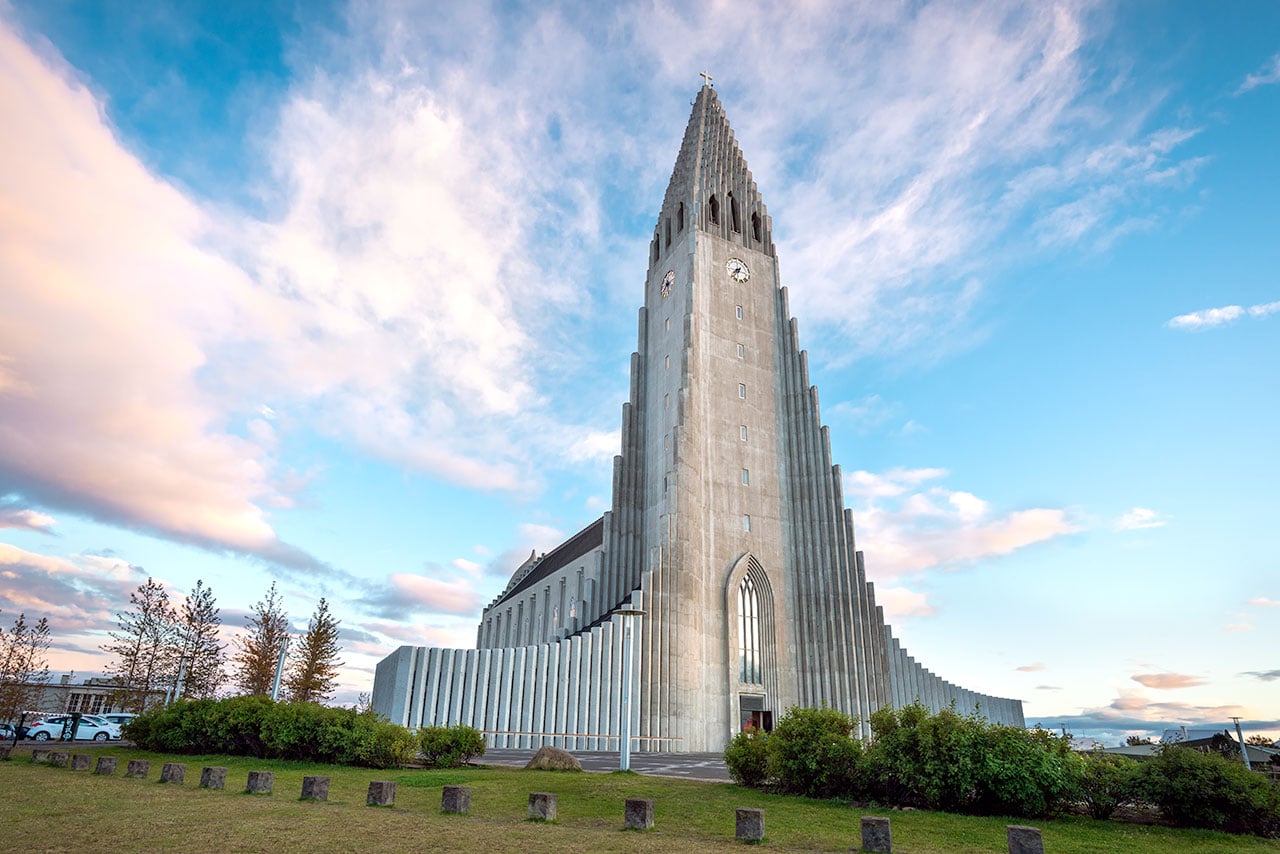 What's the Best Time to Visit Iceland? When To Visit Iceland
Learn the best time to visit Iceland this year with tips for traveling during the summer high season, the winter low season, and when to see the northern lights.
Iceland's long days of sunlight and warm weather conditions convince most people to visit Iceland during the spring and summer months (May – September).
But the best time to go to Iceland really depends on what you want from your trip. Iceland is a popular vacation destination year-round for different reasons.
In this travel guide, I'll help you to figure out when is the best time to visit Iceland for a Golden Circle road trip, to see the northern lights, when to see wildlife, how to experience Icelandic wildflowers, or when to avoid the crowds in the off-season.
I'll also go over some of the best seasonal attractions, festivals, and highlights in Iceland depending on which months you're planning to be there!
My Favorite Time To Visit Iceland
Personally, after multiple trips to the country, my favorite time to visit Iceland is during the shoulder season in autumn (fall).
The months of September and October are especially good times to visit.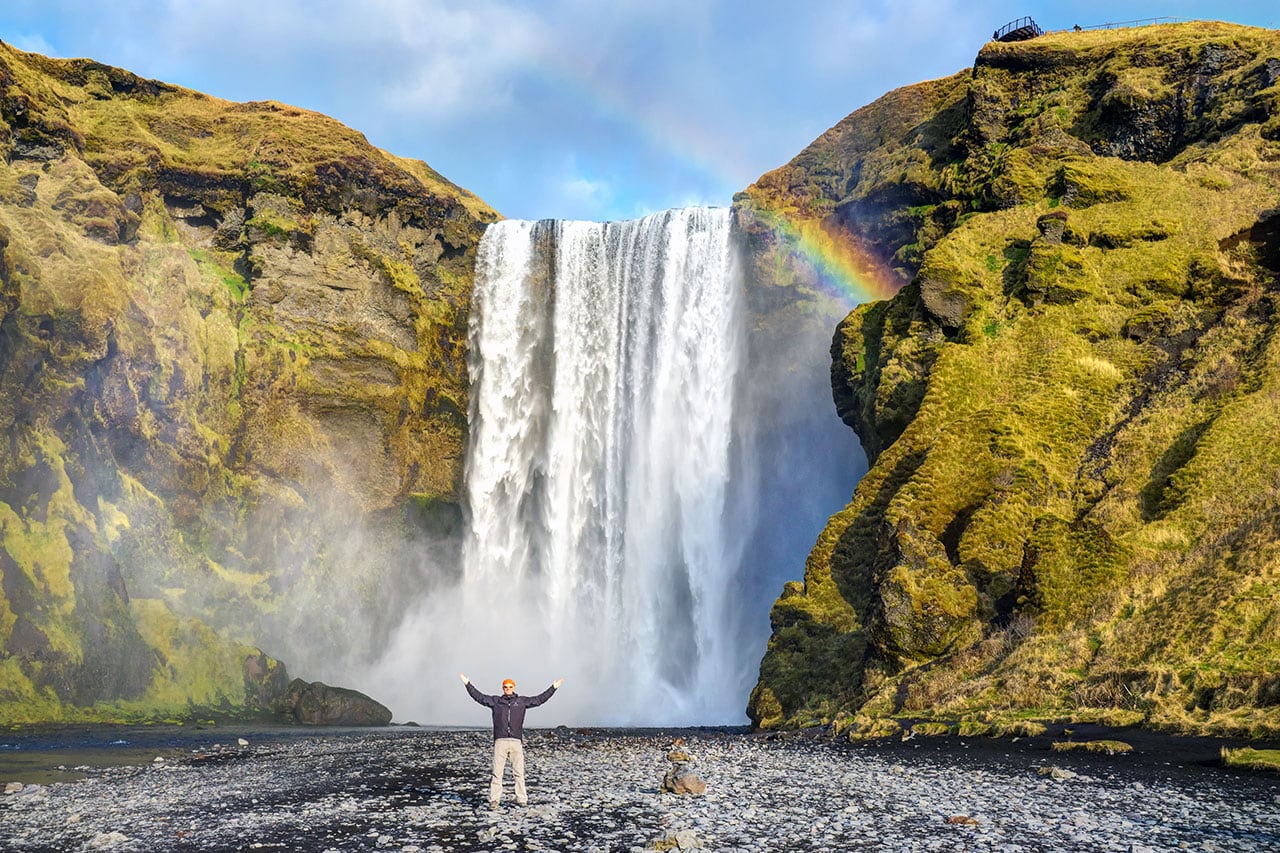 Fall is a Wonderful Time to Visit! Why Visit In The Fall?
By mid-September, many people's "summer vacations" are over, and most of the tourists have gone home. Certainly not all, but a majority of them. It's less crowded.
You'll still find plenty of tourists at Iceland's most popular attractions, but it's more manageable in the autumn. Fall is also a great time to save money on hotels in Iceland (because they aren't cheap!)
Iceland's incredible Northern Lights (aurora borrelias) start to become more visible and frequent in late September and early October too.
You can also still drive around the Icelandic highlands via remote F-Roads, which usually get closed by October as the first snow storms hit.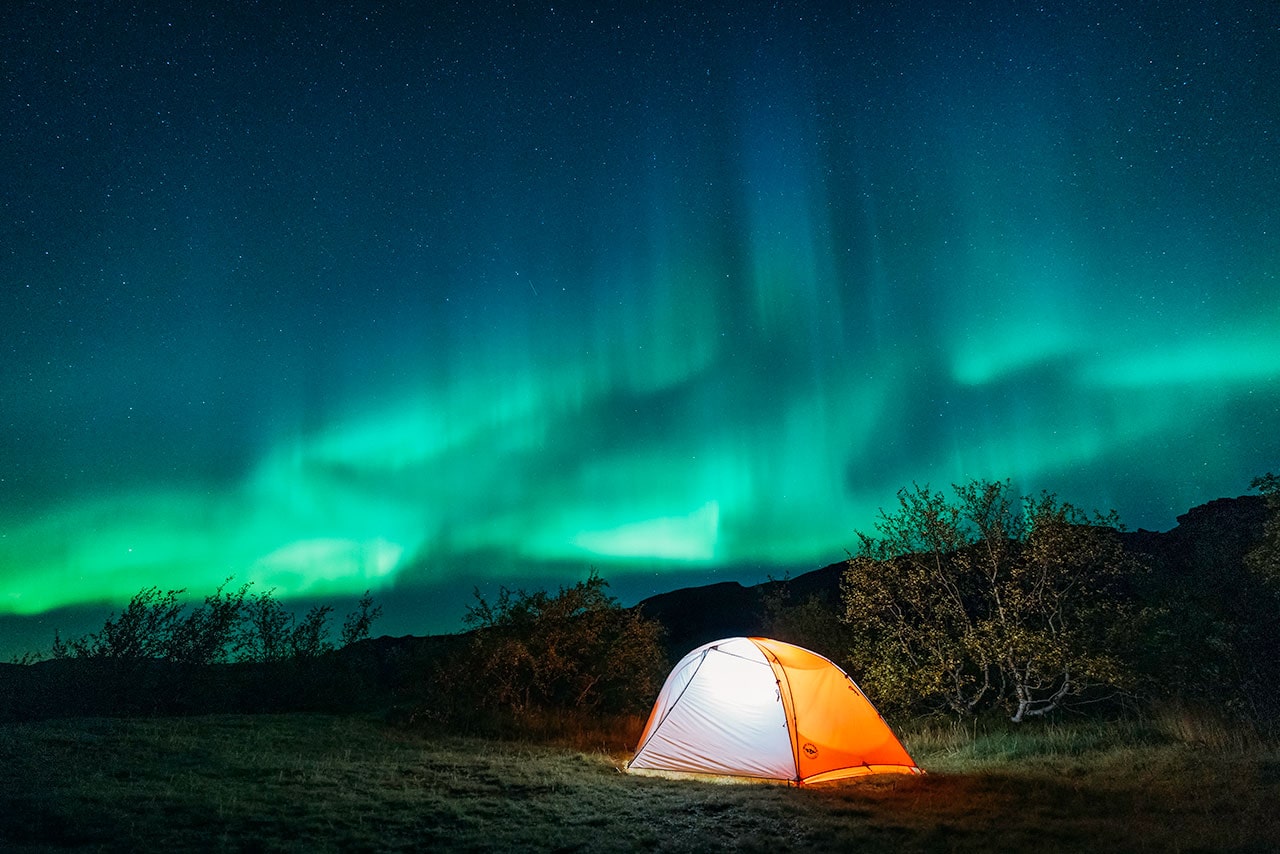 Camping in September for Northern Lights Season in Iceland Best Time For Northern Lights
Technically, the Northern Lights in Iceland can be seen from September through April. But September – October and February – March, particularly around the equinoxes – are the best months to see this spectacular natural light show. For a detailed guide on how to find and photograph the northern lights, click here.
Best Season For Photography
While I'm of the opinion that you'll get great photos in Iceland no matter what season you visit, each has its own benefits. The autumn and winter light is particularly spectacular, as the sun stays low to the horizon throughout the day while sunsets and sunrises can last for hours. Plus, the northern lights of course.
Good Months For Whale Watching
Whale watching season in Iceland happens from April to October. But the peak season for whales is June, July, and August. Tours are available from Reykjavik, the Vestmannaeyjar Islands, and Akureyri.
When Is The Best Weather?
The best time to visit Iceland for great weather is during the summer high season. July and August have average highs around 13°C (55°F) however temperatures can be as high 20°C (68°F). Surprisingly, the spring months of May and June have the least amount of rain.
Best Season To Save Money
Hotels, airfare, tours, and car rentals in Iceland are cheapest during the winter months (November, December, January, February) — aside from the holidays. Everything is more expensive in the summer (July & August). For the best combination low prices and decent weather, go during the shoulder seasons: May – June or September – October.
Best Time To Avoid Crowds
Iceland has become incredibly popular over the last few years. If you're trying to avoid the crowds, avoid visiting Iceland during the summer months of June – August. Winter has the fewest tourists, but also the coldest temperatures.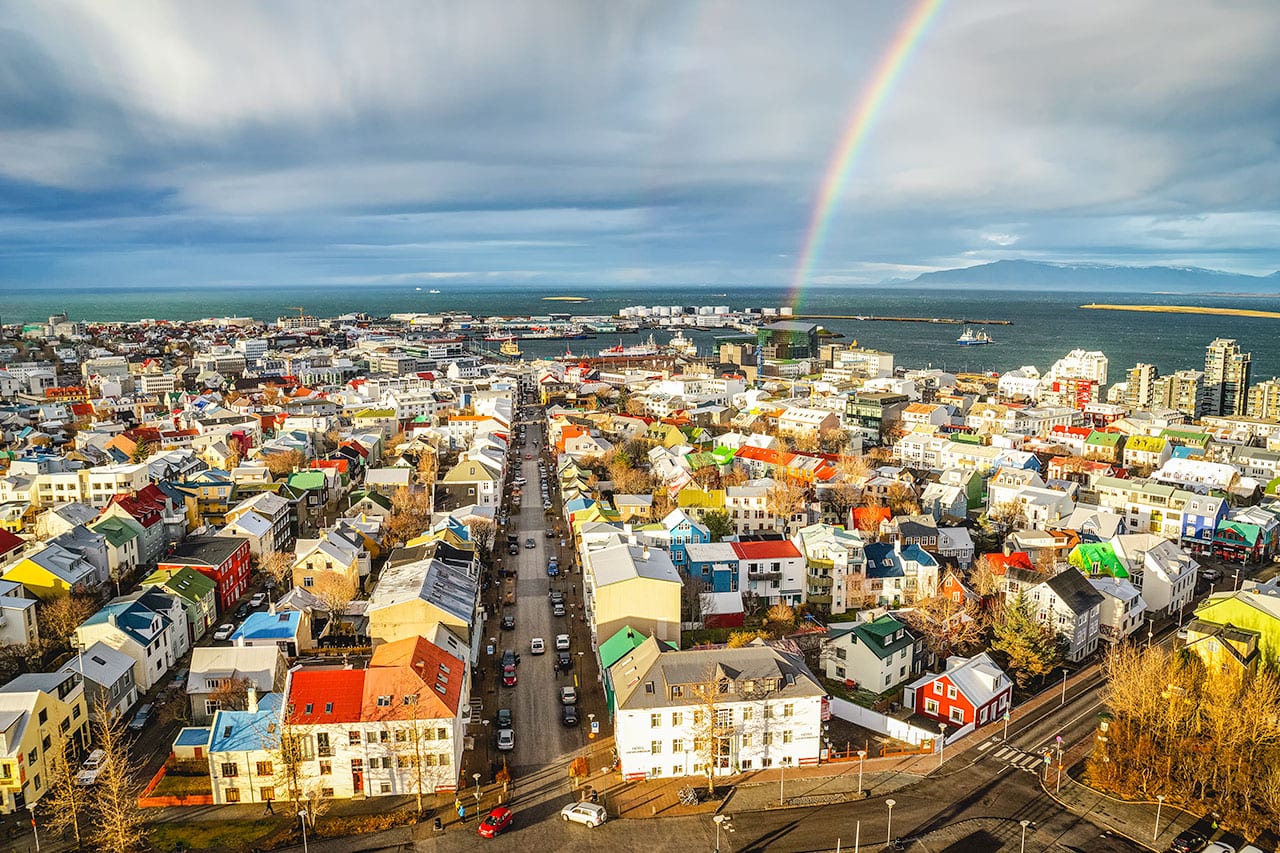 High & Low Seasons in Iceland High & Low Seasons In Iceland Visiting Iceland In The Summer: June – August (High Season)
Iceland's warmest peak season sees hoards of tourists arrive in Reykjavik to take advantage of almost 24-hour sunlight. This is the warmest period to explore the country's landscapes.
From late May to late July, Iceland's famous midnight sun means there are almost 21 hours of daylight, from about 3am until midnight. The phenomenon peaks on June 21st, the summer solstice.
Most of the country's popular attractions are open during the summer, and it also has the best driving conditions for a road trip. But it's also the most crowded time to visit. Especially in July & August, the absolute peak of high season.
Summer Weather Conditions By Month JUNE Average Rain: 36mm Average Low: 7ºC/44ºF Average High: 12ºC/53ºF JULY Average Rain: 60mm Average Low: 8ºC/47ºF Average High: 13ºC/56ºF AUGUST Average Rain: 118mm Average Low: 8ºC/47ºF Average High: 13ºC/56ºF Pro's Of Visiting In The Summer All attractions are open More daylight time to explore Iceland's best weather conditions Con's Of Visiting In The Summer Overcrowded attractions Higher prices for accommodation and car rentals It can be hard to sleep with constant sunlight USEFUL TIP: One way to avoid summer crowds is to sleep during the day and go sightseeing at night when everyone else is in bed, because the sun often doesn't set until midnight and rises again at 3am! Packing For Iceland In The Summer
Although many Icelandic locals will tell you that their summer season is nice and warm, they probably don't have the same definition for 'warm' as you do!
Bring a hat, scarf and gloves just in case, it's better to be over prepared than not being able to feel your fingers. You may also want to pack a sleep mask for the midnight sun. Especially if you're camping in a tent!
Top Iceland Highlights In Summer
WHALE WATCHING – Animal lovers flock to Iceland during summer months to witness more than 20 different species of whales including humpbacks and orcas. Akureyri and Reykjavik are good places to go whale watching.
PUFFIN SPOTTING – Summer in Iceland is the best time of year to see some of the 8 million Puffin birds which nest in the sea cliffs. Many settle in Vestmannaeyjar and the Látrabjarg Cliffs in Westfjords from late April until mid-August.
MIDNIGHT SUN – To witness the Midnight Sun, aim to visit Iceland during the summer solstice on June 21st, the longest day of the year. In some parts of the country the sun never actually sets! It simply hits the horizon and starts to rise again.
HIKING & CAMPING – Some of Iceland's best hiking is located in the highlands, the center part of the country. To access these remote areas, you need to drive on Iceland's "F-Roads" which are only open from June to late September.
ROAD TRIPS – There's nothing like a good road trip driving past geothermal areas, roaring waterfalls, or massive glaciers on Iceland's Ring Road or the Golden Circle. Summer months provide the best driving conditions for these routes.
Fun Summer Festivals In Iceland Iceland National Day Secret Solstice Festival International Viking Festival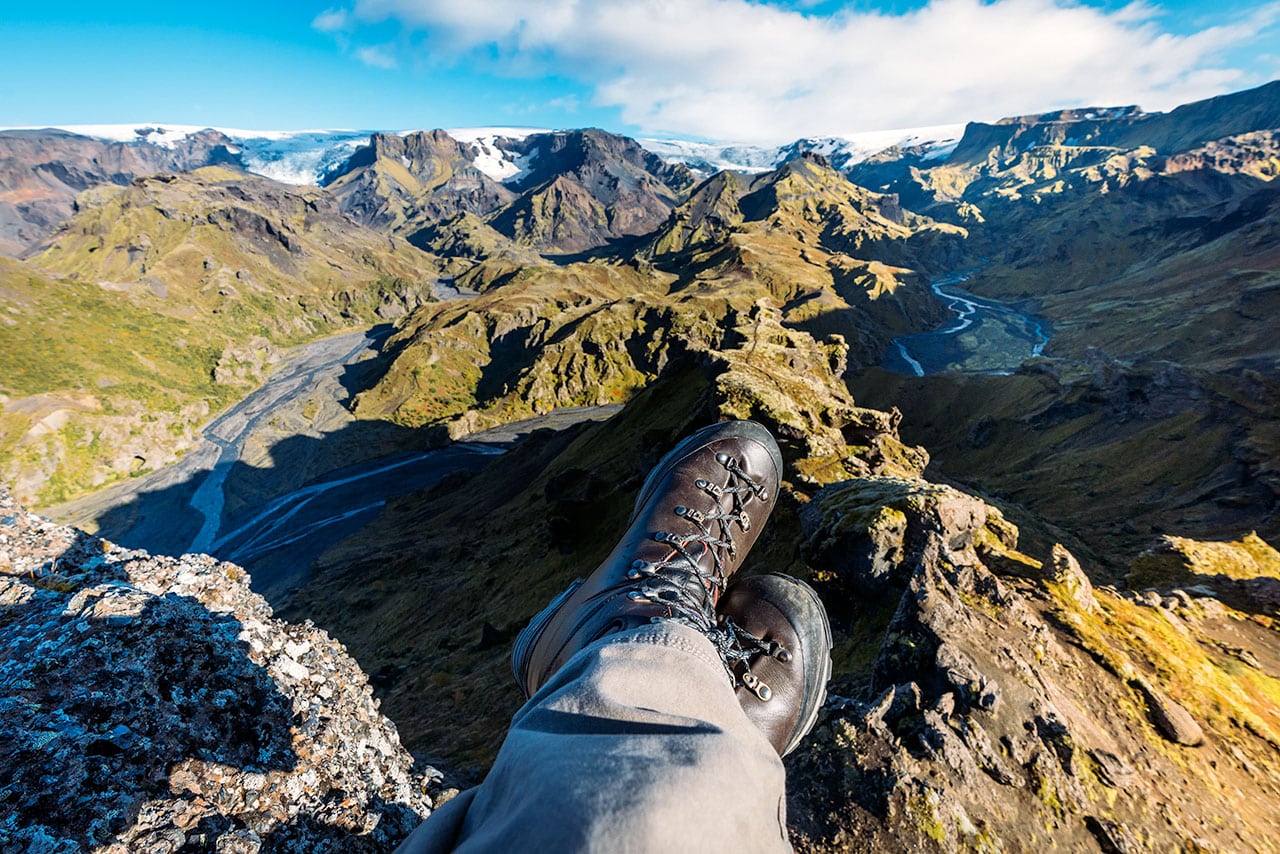 Iceland in the Fall (My Favorite Time to Visit!) Visiting Iceland In The Autumn: September – October (Shoulder Season)
The autumn season in Iceland begins in September and stays until late October, with colder weather creeping in more and more each day. You'll find that accommodation and flight prices start to decline as the daylight hours get shorter too.
If you're hoping to catch the first snowfall of the year, October is your best bet. If you're really lucky, you might even spot the Northern Lights in late autumn too. The wind can start to get stronger, making it feel colder than it really is.
Iceland is covered in stunning autumn colors of oranges and reds, plus the rain brings a distinctive smell to the air. You'll also spot migratory birds as they prepare to move elsewhere for the winter months.
Fall Weather Conditions By Month SEPTEMBER Average Rain: 110mm Average Low: 5ºC/41ºF Average High: 10ºC/50ºF OCTOBER Average Rain: 155mm Average Low: 2ºC/36ºF Average High: 7ºC/45ºF Pro's Of Visiting In Autumn Attractions & hotels are often cheaper Less tourists, overcrowding Northern lights being to appear Con's Of Visiting In Autumn Less daylight hours to explore The weather gets colder Packing For Iceland In The Autumn
Strong winds and rain is more frequent in the autumn, so be prepared for all weather conditions. From September to October, windproof and waterproof clothes are essential and wearing layers will help you stay on top of the ever-changing temperatures.
Freak snowstorms can also happen too, so wear comfortable footwear, pack a windproof & waterproof jacket, warm extra layers, and bring a winter hat and gloves just in case.
Top Iceland Highlights In The Autumn
FORAGING – This is the best time to go mushroom or berry-picking in the Icelandic countryside. During the autumn months, you can find and pick wild blueberries, strawberries, redcurrants and crowberries in Iceland.
EXPLORE F-ROADS – September is the last month you can still drive Iceland's rugged & remote F-Roads that lead to the interior central highlands. Once the winter snows start in October (sometimes late September) they are no longer maintained, and only highly-modified super jeeps can attempt them.
GLACIER HIKING – Once you are kitted out by a tour company with crampons, a harness, ice ax, and a helmet — you can begin your glacier hiking adventure! Solheimajokull Glacier is one of Iceland's most famous glaciers to hike, only about 2-hours from Reykjavik.
NATURAL HOT SPRINGS – Icelanders love to swim outside in all seasons, and fall is a great time to experience some of the many natural hot springs that dot the Icelandic landscape.
Fun Fall Festivals In Iceland Reykjavik International Film Festival Iceland Airwaves Halloween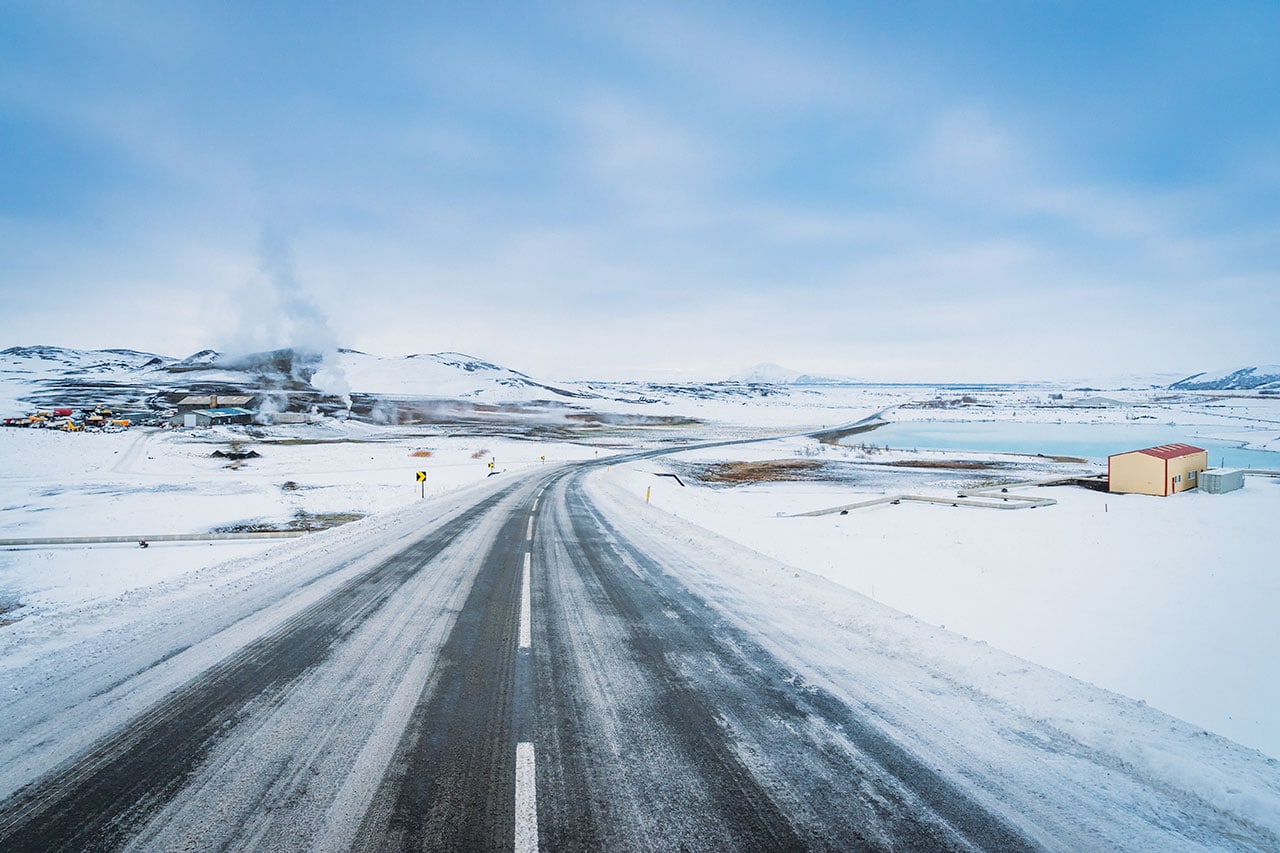 Visiting Iceland in the Winter Visiting Iceland In The Winter: November – March (Low Season)
Even with the cold & snow, there are many advantages of traveling in Iceland during the winter. With fewer tourists visiting between October and April, you'll find many hotels for a fraction of the high season cost.
If you're visiting Iceland on a budget, winter is also the best time of year to find cheap flights, car rentals and tours. Although camping is a bit more complicated.
One of the downsides of visiting Iceland in the winter are icy driving conditions. The main roads are usually plowed quickly though.
There's much less daylight too, only 4 – 6 hours depending on the month, with only 3 hours of sunlight during the winter solstice (around December 21st). Which can be great if you're hunting Northern Lights though!
Winter Weather Conditions By Month NOVEMBER Average Rain: 110mm Average Low: -1.5ºC/29ºF Average High: 3.5ºC/38ºF DECEMBER Average Rain: 119mm Average Low: -3ºC/27ºF Average High: 2ºC/35ºF JANUARY Average Rain: 129mm Average Low: -3ºC/27ºF Average High: 2ºC/35ºF FEBRUARY Average Rain: 106mm Average Low: -2ºC/28ºF Average High: 3ºC/37ºF MARCH Average Rain: 116mm Average Low: -2ºC/28ºF Average High: 3ºC/38ºF Pro's Of Visiting In Winter Save money on hotels, flights, and rental cars Fewer crowds, less tourists Best time for the northern lights Cons's Of Visiting In Winter Slippery winter driving conditions Many attractions are closed Less daylight hours to explore Packing For Iceland In The Winter
We've all heard the saying "there's no such thing as bad weather, just bad clothing". Keep this in mind when packing for Iceland in winter. Although the temperature might not be as cold as you expect, the winter winds can make it feel a lot colder, so you'll definitely need to dress warmly.
Iceland is famous for its thick handknitted wool sweaters – so pick one up if you plan to be out in the elements. On top of this, you should pack waterproof gloves, thermal socks, winter boots and the warmest hat you can find (furry ear-flaps are a plus!)
Everything in your suitcase should either be thermal, waterproof or windproof when traveling through Iceland in the winter.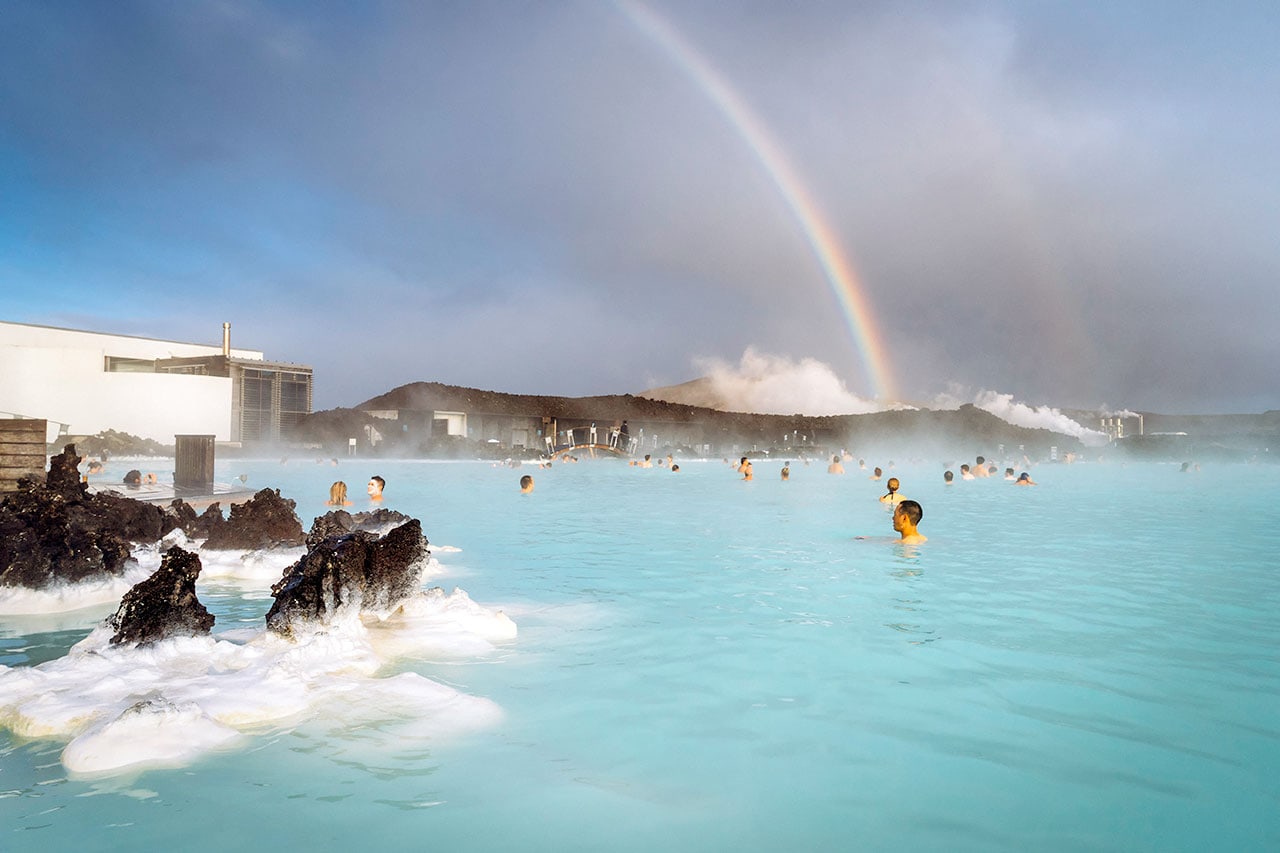 Visit the Blue Lagoon in Winter! Top Iceland Highlights In The Winter
Due to winter weather conditions and fewer visitors, you may find that some of Iceland's attractions are closed during this time of year, but there are still plenty of things to do.
NORTHERN LIGHTS – Winter is the best time to see the northern lights in Iceland. While they're visible for 8 months of the year, the shorter days of winter give you the best opportunities to witness this natural phenomenon.
CRYSTAL ICE CAVES – Iceland's blue glacier ice caves can only be explored during the winter months, starting in November, when they become safe to enter. During the spring and summer many of these magical caves often collapse (when you don't want to be inside!)
EPIC PHOTOGRAPHY – Even though it's the darkest time of year, the sun doesn't go down without a fight. Winter sunrises and sunsets can last for hours, featuring a beautiful golden glow over the country's dramatic landscapes. Accentuated colors over the mountains provide the perfect backdrop for landscape photographers.
THE BLUE LAGOON – Winter is the perfect time to visit Iceland's most famous attraction, The Blue Lagoon, located about 30 minutes away from Keflavik Airport. Along with fewer crowds, the steam rising from the warm mineral waters during the winter is very cool!
SUPER JEEP TOURS – Iceland has massive 4X4 vehicles called "super jeeps" with lifted suspensions and oversized tires to travel over deep snow and across glacier rivers. The only way to visit the remote central highlands during the winter is by traveling in one!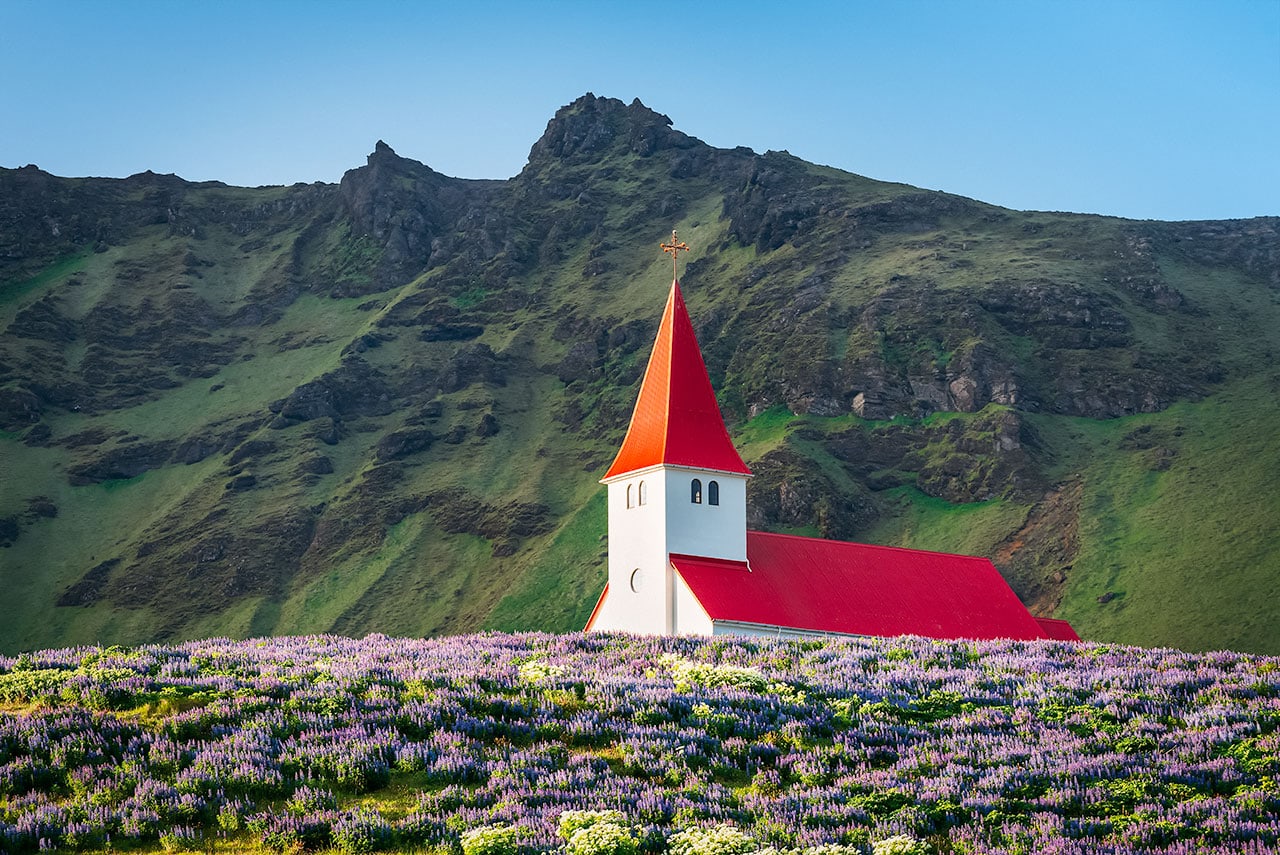 Purple Lupine Flowers in Vik Visiting Iceland In The Spring: April – June (Shoulder Season)
The spring season is short and sweet, arriving later than many people think. While your chances of catching the Northern Lights starts to diminish in early April, you'll be arriving just in time to witness the blooming of some of Iceland's most beautiful flowers.
The most famous of which is the violet Lupin flowers, which come to light in late May and spread across the Icelandic landscape, creating the perfect backdrop for the many travel photographers who visit every year.
This is also the best time to visit some of Iceland's many waterfalls, as the melting snow and ice create new streams of water through the rocky landscapes.
Spring Weather Conditions By Month APRIL Average Rain: 70mm Average Low: 0.5ºC/33ºF Average High: 5.5ºC/42ºF MAY Average Rain: 63mm Average Low: 3.5ºC/39ºF Average High: 9.5ºC/49ºF JUNE Average Rain: 36mm Average Low: 7ºC/44ºF Average High: 12ºC/53ºF Pros Of Visiting In Spring Affordable accommodation and rental cars Daylight hours increase after the winter months Wildflower season begins Cons Of Visiting In Spring Winter weather may not be over yet Long days of sunlight mean no northern lights Packing For Iceland In The Spring
Similar to the autumn months, you can expect to find all 4 seasons in one day during the spring, so you need to be prepared for whatever the weather throws at you.
Comfortable footwear and warm clothes are a must, and they should also be windproof and waterproof. No matter what time of the year, I always recommend packing layers for Iceland.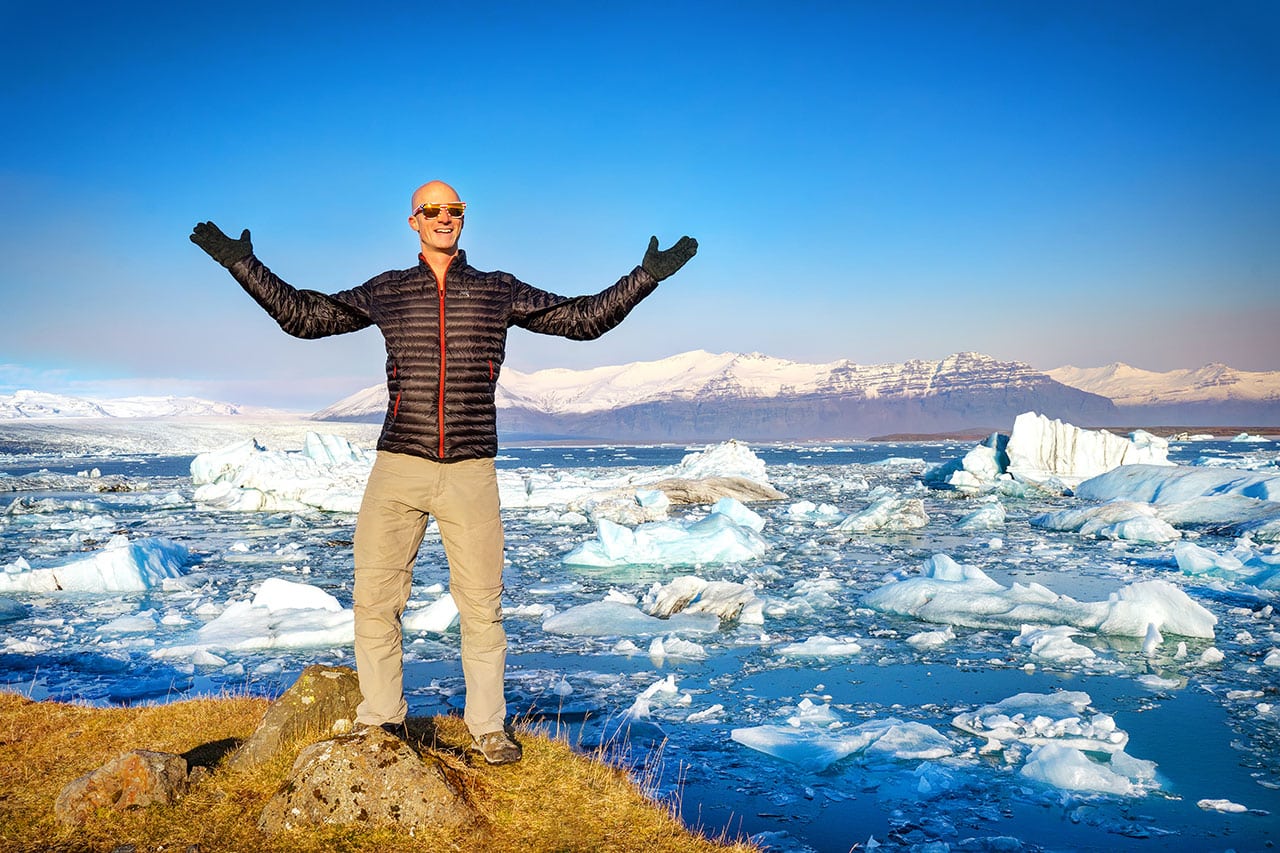 The Famous Iceberg Lagoon! Top Iceland Highlights In The Spring
As the winter weather dies down and the evenings become brighter, many of Iceland's most popular attractions reopen for spring and summer.
If you are a nature lover, this is also a fantastic time of year to visit as Iceland's landscapes come into full bloom with wildflowers!
JOKULSARLON GLACIER LAGOON – The massive glacier at the top of this cold lake begins to melt as the temperature increases, resulting in huge icebergs breaking off into the water. Spring is the best time to see all the fresh icebergs floating out to sea.
PURPLE LUPINE FLOWERS – Nootka Lupine, also known as Alaskan Lupine, is an invasive species of purple wildflower that has taken over Iceland. Fields of purple lupine make for some amazing photos when they bloom in mid-June.
PUFFIN SPOTTING – Summer in Iceland is the best time of year to see some of the 8 million Puffin birds which nest in the sea cliffs. Many settle in Vestmannaeyjar and the Látrabjarg Cliffs in Westfjords from late April until mid-August.
SNORKELING BETWEEN CONTINENTS – Snorkeling this water-filled crack called Silfra between the North American and Eurasian continental plates during spring is a great time to avoid the larger summer crowds.
Fun Spring Festivals In Iceland First Day Of Summer Festival Reykjavik Art Festival Festival Of The Sea Enjoy Your Trip To Iceland In Any Season!
Well, I hope this guide to Iceland's weather and seasons will help you better plan your trip to the land of fire and ice. However, I really think that no matter when you decide to visit Iceland, you'll have an amazing experience! ★
Travel Planning Resources For Iceland Packing Guide
Check out my travel gear guide to help you start packing for your trip. Pick up a travel backpack, camera gear, and other useful travel accessories.
Book Your Flight
Find cheap flights on Skyscanner. This is my favorite search engine to find deals on airlines. Also make sure to read how I find the cheapest flights.
Rent A Car
Discover Car Hire is a great site for comparing car prices to find the best deal. They search both local & international rental companies. Also read my tips for driving in Iceland.
Book Accommodation
Booking.com is my favorite hotel search engine. Or rent apartments from locals on Airbnb. Read more about how I book cheap hotels online.
Protect Your Trip
Don't forget travel insurance! I'm a big fan of World Nomads for short-term trips. Protect yourself from possible injury & theft abroad. Read more about why you should always carry travel insurance.
Recommended Guidebook: Lonely Planet Iceland Suggested Reading: The Little Book Of Hidden People Enjoy This Post? Pin It!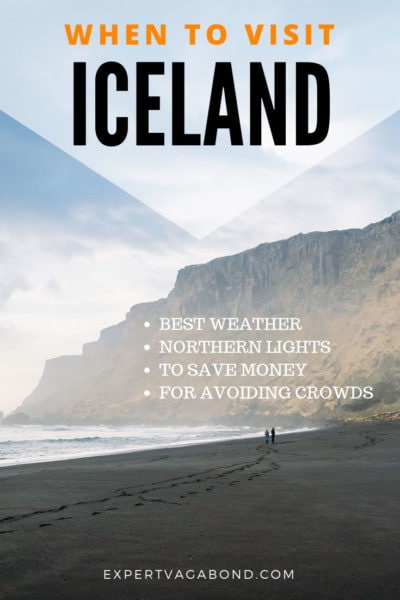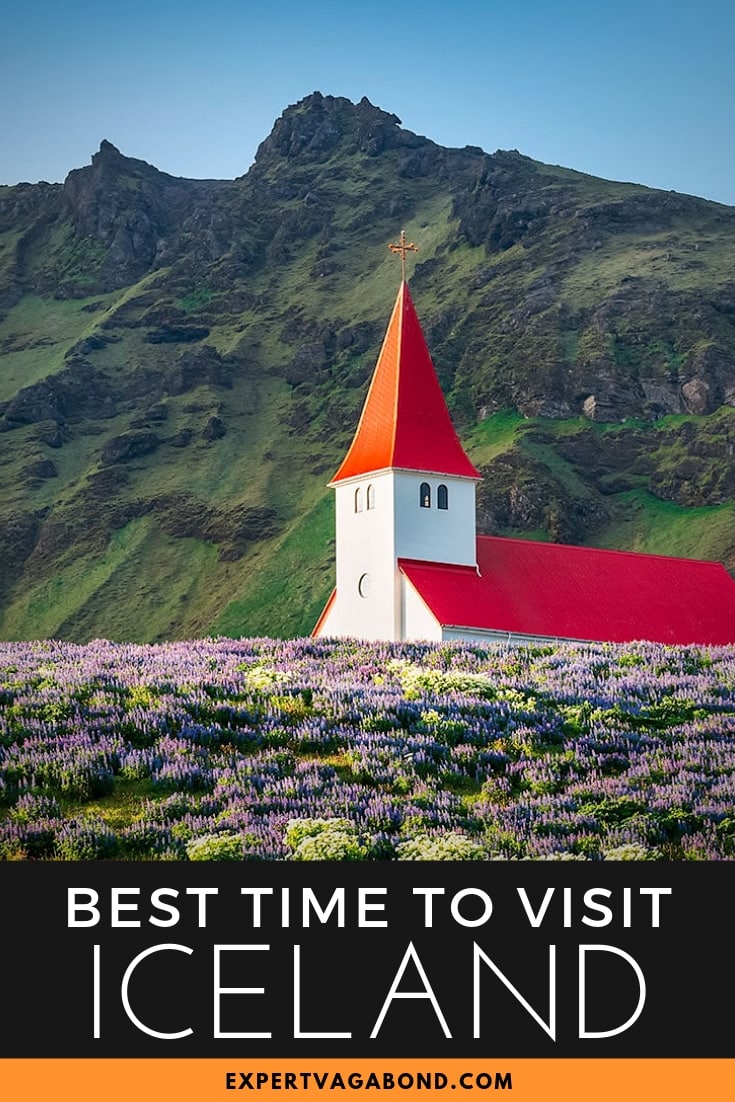 READ MORE FROM ICELAND
Where To Stay In Iceland Rental Car Driving Tips For Iceland How To Self-Drive The Ring Road 25 Strange Facts About Iceland!
Are you planning a trip to Iceland? Do you have any questions about when to visit? Drop me a message in the comments below!
This is a post from The Expert Vagabond adventure blog.
Read more: expertvagabond.com